ECSAB was founded in 2006 and patents and sales rights for drum composting were acquired the same year from the Finnish company Rumen Oy. The technology and the system has since then been further developed and in 2009 it received system approval by the Swedish board of agriculture through validation. Together with Rumen Oy more than 100 drum composting plants have been delivered and put into operation in Finland and Sweden.
QuantorXL® Drum composting from ECSAB offers a solution to modern requirements for waste management, recycling and composting of sludge from water purification plants, biogas plants and municipal waste facilities, fish industry, agriculture, stud farms, fur-and poultry farms, riding schools and equestrian facilities, etc. ECSAB provides high quality, proven and sustainable waste management technology. The need for this technology is large and is growing.  "Our vision is to have another 100 QuantorXL® facilities in operation within a few years!"
ECSAB puts experience and knowledge into practice.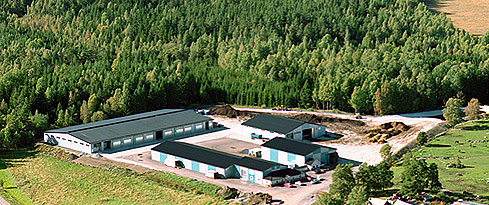 ECSAB office together with sister company RS Produkter
ECSAB – Contact information
Visiting address
Härkeberga Ekeby 21
745 96 Enköping


Mats Tuvesson
President,
Sales and marketing
mats.tuvesson@ecsab.com
+46 (0)70 384 84 00


Rainer Ström
Chairman of the board
rainer.strom@ecsab.com
+46 (0)70 335 21 27
ECSAB Asia Technologies Limited
Plaza 1 489 Hennessy RD
Causeway Bay
HONGKONG
Contact: Alfred Chong
E-mail: alfred.chong@ecsab.com
Phone: +852-562 86560, +86-147 14312461
Nasir Baig
E-mail: nasir.baig@ecsab.com
Phone: +46 70 60 44 67 19
You can also contact us by e-mail, info@ecsab.com,
phone 0171-41 41 85 or
fax 0171-41 41 90
Find us