2021-12-21 D.A Mattsson AB
We are pleased to be able to deliver a first QuantorXL drum composting plant to D.A Mattsson's recycling plant in Upplands Väsby, north of Stockholm.
2020-09-30 Green Soil Bergslagen AB
We are pleased to be able to deliver a second QuantorXL drum composting plant that will be installed at Alfta outside Bollnäs for sludge and horse manure etc. This facility has focused on building the outer areas in levels, which promotes the management of the flows.
2019-09-10 Hummeltorp Sverige AB
It is with pleasure that we will now deliver the first QuantorXL drum composting plant for horse manure. The plant will also be supplemented with a heat recovery system (for 2 drums) for heating the office and workshop as well as hot water.
2019-07-01 Sorting plant for bio-waste (QuantorSORT)
Feeding hopper with a shredder / grinder in the bottom, transport screw to feeder belt with space for manual sorting and solid magnet for metal, further to 2 double special screws to disintegrate the waste which is then compressed and separate into 2 fractions, bio-waste that is pumped out (customer takes over) and combustible waste which is screwed out to the customer's container.
2019-07-01 Solar cells system (QuantorSUN)
New product! Different solar cell solutions "on grid", "Off grid" and "hybrid" are tailor-made for power requirements.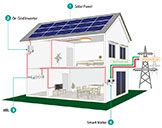 2019-03-05 Swedish Royal Court
A "QuantorXL" drum installation together with a hall delivery in Stora skuggan, inside the boarder in northern Stockholm are now in full operation.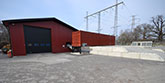 2018-02-07 Swedish Royal Court
We have now got the honor to set up a QuantorXL drum composting plant inside the city boarder in northern Stockholm to hygienize/compost horsemanure from stables in Stockholm for the court, police, military and private horses.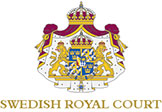 2017-09-05 Ålandskomposten buys "QuantorXL®" drum composting
It is with pleasure that we will now deliver a complete plant containing drum composting for household waste and grinder/pump system for slaughter and fish waste, heat exchanger systems for hot air/steam from the drum to heat leachate water which is then cleaned in our water treatment plant. Low energy consumption of approximately 25,000 kWh/year and recycling of process energy equivalent to approximately 100,000 kWh/year.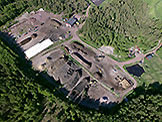 2017-04-06 Mewab in Karlstad is now up and running
An updated steam hygienization facility "QuantorSX" heat treat the concentrated chicken manure in compliance with current EU-requirements.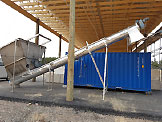 2016-11-20 Klöverbergsgården in Luleå is now up and running
An updated steam hygienization facility "QuantorSX" heat treat the concentrated chicken manure in compliance with current EU-requirements.
2015-01-09 Rölunda Produkters new facility in Forsbacka is now up and running
A small newly developed steam hygienization facility "QuantorSteam" heat treat the concentrated chicken manure in compliance with current EU-requirements.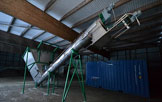 2014-05-15 Minister for Rural Affairs learns about hygienization
At a briefing at the Royal Djurgården Administration ECSAB presented our technique, that is planned to be used to process manure from the administration's horses and other animals. The Minister for Rural Affairs Eskil Erlandsson participated and we reminded him, and everyone else, about how important it is to demand that approved methods, like QuantorXL®, is used to hygienize manure.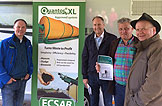 2014-01-15 Hygienization of chicken manure
During the past months ECSAB has, together with a customer, developed and tested a system for hygienization of poultry manure. As poultry manure is quite difficult to compost, external heat is supplied to reach the required temperature. We are now working on a larger scale solution based on QuantorXL® rotary drum.

2014-01-01 Composting of sewage sludge has started
The plant in Avesta is now in operation and manure is composted together with sludge. The moisture level of the sludge has been too high and actions are taken in order to lower the moisture content. Interest in the possibility to hygienize sludge is very big. It becomes even more relevant due to the Swedish Environmental Protection Agency's draft for Sustainable recycling of phosphorus.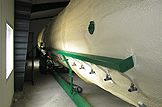 2013-11-30 Research with JTI
JTI - Swedish Institute of Agricultural and Environmental Engineering a research project called "Controlled composting with small carbon footprint." Measurements will be carried out on two of our drum composting plants to measure emissions of nitrogen. The aim is to further develop our approved method to minimize climate impact and maximize energy efficiency.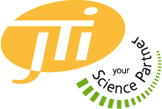 2013-10-20 New plant in Avesta
We have delivered a complete QuantorXL® system to Avesta for combined composting of manure and sewage sludge. The installation is complete and the test run is in progress. Several municipalities are interested in the possibility to deliver their sewage sludge from waste water treatment plants.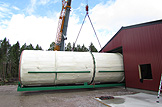 2013-06-13 Report on manure processing technology
Erik Sindhöj and Lena Rodhe have written a report for Baltic Forum for Innovative Technologies for Sustainable Manure Management called Examples of Implementing Manure Processing Technology at Farm Level. Read the report (pdf)
Read the report (pdf)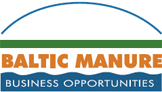 2013-03-13 Indoor pre-composting at Wiggeby Gård
Wiggeby Gård in Ekerö (see picture) has been running its QuantorXL® facility for some time now, and is primarily hygienizing horse manure. By supplementing the process with indoor pre-composting they can increase throughput and raise the total capacity of the plant.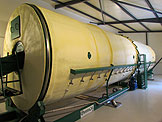 2012-07-07 Plant for composting sewage sludge together with horse manure
Planning underway for a plant in central Sweden where QuantorXL ® will be used for composting sewage sludge from municipalities. Horse manure will be used as structural material in order to enhance the process. A very exciting project that can take care of two difficult waste types at the same time!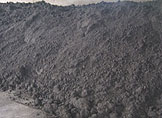 2012-07-03 Increasingly important with approved method
The interest in composting manure is growing and the number of inquiries increase around the country as more people look for approved methods for horse manure. Both the Swedish Board of Agriculture and Swedish Waste Management refer to drum composting as an approved method on their respective websites.

2012-06-13 Wiggeby Gård buys QuantorXL® Drum composting
ECSAB is proud to announce that Wiggeby Gård expands their operation with QuantorXL® Drum composting. The farm, on Färingsö outside Stockholm, was chosen by WWF to win the international "Baltic Sea Farmer of the Year Award 2010". Wiggeby runs 600 hectare with crop production and large scale composting of horse manure. They show that a modern, conventional farm can be run in an environmentally friendly way.
2012-04-13 TV news report about drum composting in Rölunda, SVT ABC News
Nobel brothers in Rölunda talk about their soil production and show their QuantorXL® Drum Composting of manure.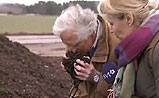 2012-02-14 Drum Composting in article on horse manure
"Avfall & Miljö" (Waste & Environment), No. 1 2012, has an article on the management of horse manure: "- You can choose any compost method. But you need to show that all the material reaches a temperature of 52°C for 13 hours, or70° C for one hour, says Sofie Gredegard (Swedish Board of Agriculture). She mentions the drum composting in Rölunda as an approved example." Article in Swedish (page 9):
np.netpublicator.com/netpublication/n35874514

2012-02-06 Applying for research funding together with SP – Technical Research Institute of Sweden
ECSAB, in collaboration with SP - Technical Research Institute of Sweden, applies for funding from Vinnova to initiate a research project on heat recovery from excess heat in QuantorXL® Drum Composting.

2011-11-20 Mellby Gård first in Skåne (Southern Sweden)
QuantorXL® composting plant mechanically installed on Mellby Gård in Skåne. Commissioning and test run is in full swing with pig manure from the farm.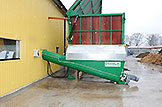 2011-11-10 QuantorXL® part of the Baltic Manure project
QuantorXL® Drum Composting identified as an innovative technology in the EU flagship project Baltic Manure, which works for a better manure management in the Baltic Sea countries. In connection with this ECSAB takes part in a match-making seminar at POLEKO in Poland 23/11.

2011-05-25 Mellby Gård Lantbruks AB – New plant in autumn 2011
The work is on-going with the production of the new facility for Mellby Gård.

2009-08-12 Rölunda officially opened by Governor Anders Björck
Rölunda Farm - The first approved composting facility in Sweden, for animal by-products, is officially opened on August 20.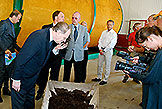 2009-05-10 Swedish Board of Agriculture approves Sweden's first composting plant
Sweden's first approved composting plant for animal by-products is now ready in Rölunda farm, close to Stockholm. The system uses a unique composting technology - the only one of its kind. The technique with composting in an enclosed drum has been developed to satisfy both the EU standards and the Swedish Board of Agriculture standards for system approval.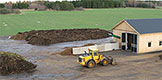 2009-01-20 Rölunda – new facility in operation close to Stockholm
Now the first plant is in full operation at Rölunda Produkter AB. ECSAB has, during autumn and winter, tested the plant and it is now in full operation. "- One to two trucks a day can now pick up a high quality compost soil for further processing and mixing into plant soil "- says Magnus Nobel, Rölunda.